elf Design Studio wins American Graphic Design Awards
In a September 18th
press release
,
elf Design Studio
announced that it had submitted two winning entries in this year's "American Graphic Design Awards," sponsored by
Graphic Design USA Magazine
. Only 10 percent of the entries submitted this year were honored, and two of elf's designs were recognized for their excellence: Maryanne Comaroto's logo and Menlo Furniture Design's website.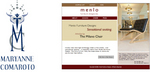 Maryanne Comaroto
is an author and a motivational speaker. Her logo combines a gothic aesthetic with imagery that references symbols of wisdom and spiritual growth. However, because almost all of the frilly decorations are concentrated on the top, the design is a bit top-heavy. Additional frills elesewhere would have unified the logo better, as would application of upper and lower case in the text.
The Menlo Furniture Design
website uses a clean, modernist design effectively representing the style of furniture Menlo sells. For improvement, more negative space and less text would give the site a greater sense of prestige and elegance.